Events
Metamorphosis Annual Fundraising Luncheon and Awards Ceremony
December 6, 2003
On behalf of the board members of Universal Love Foundation, I welcome you to our annual fundraising luncheon and fashion show. I hope you have a most enjoyable day.
As we celebrate our 3rd year of service to single parents, we thank you for your loyal support, and invite you to continue with us on this path as we strive to make our communities a better place. Let's come together and make a difference.
We thank our committee members who spent many hours at meetings, collecting contributions and performing countless other task. The project could not have been completed without their help. A big thank you to our Event Chair, Ms. Sety Madyoon and our Master of Ceremonies, Ms. Shahrzad Ardalan, who have worked very hard to make this day a success.
We would also like to acknowledge the many individual donors whose generosity has enabled us to present such a spectacular event.
We hope you enjoy this years event. We certainly enjoyed preparing for it. On behalf of the board members, our deepest thanks to all.
Event Speakers:
Dr. William W. Roberts
Associate Dean
College of Business and Economics
California State University Northridge
Ms. Linda Garcia
Manager
Child Development Services
Childrens Hospital Los Angeles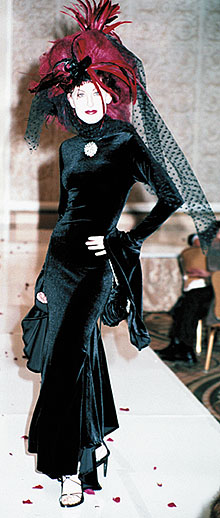 Fashion Show
Richard Bowman and Xavier Othon have been a design team for the past ten years and opened their boutique, Richard Bowman, on Beverly Boulevard in 1995. They have been actively involved in local charities and have put on fashion shows for, Caring for Babies with Aids, MAP, The Susan G. Komen Foundation, Fashion for Cure, and Universal Love Foundation. Their designs have been featured in Aliya, Britney Spears, and Dave Matthews videos. Their Celebrity clients include Whoopi Goldberg, Mila Jovovitch, Slash, Roseanne, Dave Navarro, Ricky Martin and Leslie Charleston.